WELCOME TO HOSTILE PERFORMANCE
This website is for all car enthusiasts aimed at the General Motors models and other peformance enhanced vehicles from other makers.
My Cars
Because cars in general are hobbies of mine, I constantly buy, fix, and sell mine, often using this site to advertise. I also advertise others' cars on my site for free.
If you have a vehicle for sale, tips on performance and general upgrades, views, or would like to leave a pic of your car and comments (which could be added to this site) get in touch on the GUEST BOOK PAGE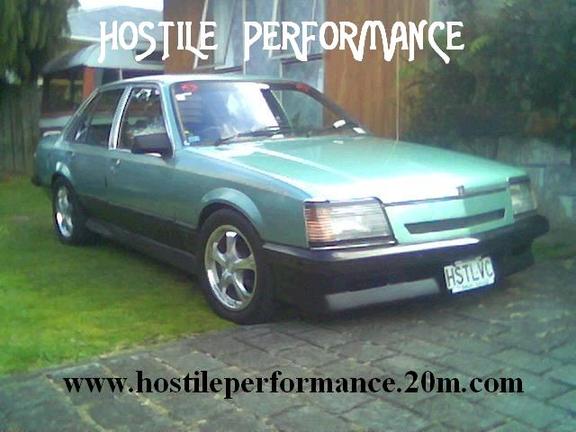 Keeping Your Car Cool
Did you know that in 95 degree heat, the air in your car reaches approximately 146 degrees and the steering wheel can reach 158 degrees? So what can you do about it? First, you can tint your car windows. Clear glass magnifies the sun and intensifies the heat. If that's too expensive, buy manual sunshades.
Mirror tints and tints below 35% are illegal on most cars.
The maximum is 35%, seems a shame as mirror and darker tints seem to look better..
Also, if applying tint yourself, check the grade of tint if you have factory tinted glass as this could affect it.
I would hate to see more money go towards the annual police drinking fund..
follow us on Facebook:
HOSTILE PERFORMANCE MODIFIED
The humble car has come along way since it was first introduced. Cars are now so much more than just something that gets you from point A to B. It has become more than a luxury necessity; it has become an extension of who you are. From the color of the vehicle, the wheels it sits on, to how many cup holders it has, it reflects the personality of its owner. In meeting with this demand of personalizing vehicles manufacturers have worked hard in succeeding this goal by offering a selection of accessories suited to car owners of all budgets and expressions.
Automotive accessories are all about transforming your vehicle into something that stands out, shows personality, functionality, and who you are. What is so great about accessorizing your automobile is that you can make it so unique. You can go after so many different looks, and performance options it is endless. Most people start to customize without even knowing that they are. You add an antenna topper, tint your windows, add a bug guard, and personalize a license plate, that's all customizing.
Aftermarket automotive accessories are just not for the outside of the vehicle. You can upgrade your interior as well with items like your pedals, steering wheel, stereo, dash board, knobs, and seats to name but a few. Don't forget your performance accessories as well, such as air intakes, pullies, exhaust, and headers. Then you have your comfort accessories, extra cup holders, heated seats, GPS systems, etc... Upgrading and personalizing your vehicle is easily achieved with automotive accessories and doesn't need to cost a fortune. Although, before you buy any accessory, you must first make sure that the product is made from top quality materials and by a reliable manufacturer. By purchasing accessories through trusted retailers you are ensuring yourself that you are going to get parts that will fit nicely with your vehicle and compliment the desired look that you are trying to accomplish.
It doesn't matter if your car is in new or used condition, automotive accessories are necessary to continually improve, maintain, and distinguish the look of your vehicle. Vehicle accessories are part of auto customization that can prove to be an easy start to the world of personalizing your vehicle. Many accessories are low enough in cost that they are not out of reach of the average vehicle enthusiast.